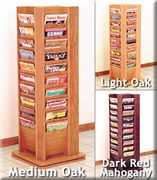 <<< click picture to enlarge view

As beautiful as this rotating, Magazine Rack is... it's form is second to it's function. This newest addition is specifically designed, and meticulously constructed, to withstand heavy usage and provide you with decades of trouble free use. You'll find it to be an excellent return on your investment.

The 40 overlapping 9" wide by 3/4" deep pockets provide an ideal way to organize and display all your magazines or catalogs in a minimum amount of space.
---
Solid Oak frame with genuine oak veneer back and dividers
Overlapping pocket design for maximum space utilization
Displays 40 typical 8-1/2"x11" magazines or catalogs
New sturdy improved design floor stand for years of trouble free use
Choose from among 3 popular wood finishes
Item #

Description

1

2 - 3

4 - 9

10 +

MR-40-SP

Oak - Floor Carousel - 40 Overlapping Pockets

$349.95

$329.95

$309.95

$299.95

18"W 50"H 18"D - 9"W x 3/4"D pockets I 63 lbs. I 40 Overlapping Magazines pockets
Choose from: Light Oak, Medium Oak, Dark Red Mahogany