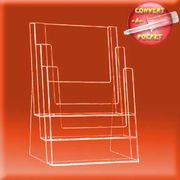 Truly the most elegant CounterTop Brochure Holders available anywhere, at any price.

These sparkling, crystal clear literature holders are the ideal way to organize, and effectively display all your literature at any Point Of Sale site - the slant back design displays your literature at just the right angle.
---
A few of the many desirable qualities of our CounterTop Literature Holders
---
Elegant European Styling
Smooth rounded corners
Heavy gauge seamless construction
Each 9" Catalog size pocket can be converted to 2 4-3/8" side-by-side Trifold size pockets with our optional CD1 pocket converter
Optional Custom imprinting available
Item #

Description

1-5

6-11

12-23

24-47

48-95

3C230

3 Pocket 3 Tier Full Page Holder

$ 20.00

$ 18.00

$ 16.00

$ 14.00

$ 12.00

size: 3 pockets 8-3/4" wide x 1-1/2" deep I 6 pieces to master carton I imprinting available
Order online and compare shipping charges for various UPS shipping methods.